When:
July 19, 2019 @ 5:30 pm – 8:30 pm
2019-07-19T17:30:00-05:00
2019-07-19T20:30:00-05:00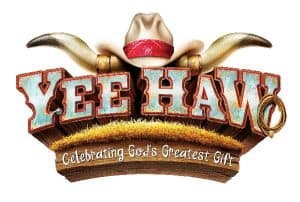 FREE! Kids Weekend Adventure at Our Savior's Lutheran Church
1529 Southwest Blvd – Jefferson City, MO
FRIDAY – SUNDAY, July 19-21, 2019
For kids age 3 – grade 6

Friday, July 19
5:30 – 8:30 pm
Opening meal followed by Yee-Haw Kids Adventure! Invite your friends for a fun meal, hear how Jesus came to earth as God's greatest gift of all time, sing songs, create a gift to share, and play games.
Saturday, July 20
9:00 – 11:30 am
On Saturday, we will discover that sin weighs us down like heavy stones, but Jesus took our sins away when he died on the cross and rose again. The music, games and crafts also continue!
Sunday, July 21
10 – 11:30 am 
Family Sunday Celebration
Join us for snacks, then our Yee-Haw Adventure continues as children sing several of the VBS songs, enjoy a Spotlight on VBS presentation, and bless the Projects-With-a-Purpose gifts for people affected by the tornado and floodwaters in the Jefferson City area.
REGISTER YOUR CHILD(REN) TODAY