When:
February 22, 2021 @ 6:30 pm
2021-02-22T18:30:00-06:00
2021-02-22T18:45:00-06:00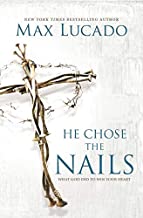 Our Savior's is offering a five-week Lenten study based on Max Lucado's book, He Chose the Nails: What God Did to Win Your Heart. In this series, Lucado observes that the last moments leading up to Jesus' death were not left up to chance. God chose the path; He selected the nails, for the salvation of others and YOU.
Weekly sessions include:
He Chose to Be One of Us
He Chose to Forgive Us
He Chose to Invite Us into His Presence
He Chose to Love Us Forever
He Chose to Give Us Victory
To register for this session, facilitated by Debbie Musselman, go to He Chose the Nails Registration. The book can be purchased through your favorite bookseller. The book does include a study guide.