When:
November 30, 2020 @ 6:30 pm
2020-11-30T18:30:00-06:00
2020-11-30T18:45:00-06:00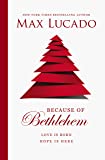 Our Savior's is offering a four-week  study during Advent based on Max Lucado's book, Because of Bethlehem: Love Is Born, Hope Is Near.
From the publisher, Because of Bethlehem, God knows what it's like to be human. Because of Bethlehem, when we talk to him about tough times, he understands. He's been there. He's been here. Because of Bethlehem, we know he doesn't say, "Clean up before you come in." He offers, "Come in and I'll clean you up." Because of Bethlehem, we no longer have marks on our record…just grace.
This video-based series will encourage us to:
Revive our wonder that the One who made everything chose to make himself nothing for us.
Rekindle our connection to the Christ of Christmas who offers lasting hope.
Lay down our endless Christmas to-do list and receive what Jesus has already done.
Heal our heartache by embracing the God who is always near us, always for us, and always in us.
To register for the series, go to Because of Bethlehem Registration. The book and its study guide can be purchased through your favorite book vendor.